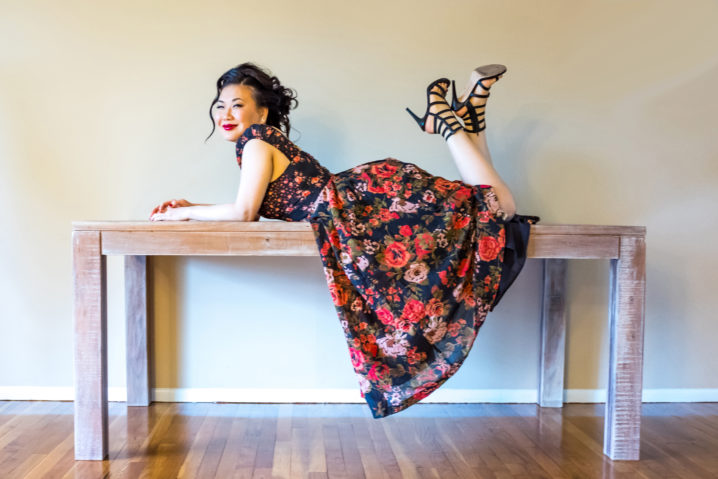 Kiyomi Hawley is a singer/songwriter that was born into a very musical family and music has always been her main love. She was born and raised in a cult which was, at times, challenging, and often left her feeling confined and alienated. However, there were positive aspects as well, as she was always surrounded by music and had many performance and travel opportunities. Because of the difficulties that she experienced, she was able to learn, grow, and cultivate the ability to find beauty in most situations. Perhaps these experiences were needed in order for her to become the person she needed to be.
Music and writing have always been her constant sources of comfort. She has been recording her life in journals since she was 12. Her life stories and her musical background make up the songs she writes and records.
Kiyomi studied Classical and Theatre Voice and Studio Composition, but likes to mostly rely on her ear and inspirations when creating and performing. She has had the opportunity to tour the US, Japan, and Korea. She's also performed for foreign ambassadors and members of the UN. She's appeared on local TV shows, has been written about in local magazines and websites, and is or has been played on radio stations such as WXCI 91.7, WGBB 1240 AM, WVCR-FM, RPI's Local Riot, SUNY Stonybrook WUSB, and Women of Substance Radio. She's performed all over Westchester County and in NYC in venues such as The Bitter End, Sidewalk Café, and Alphabet Lounge.
In 2011, she released her first album titled "Child In Me", and her brand new EP was released on September 28, 2018. The title track "Meet You There" is about wanting to be loved and accepted for who you are. The music video for this song was just released and the album was produced by the amazing Kevin Bents.
Today, Kiyomi's main love is still music, she still keeps a journal, and she has been long removed from the cult. Currently, along with being a singer/songwriter, she is a private voice and piano coach and has been blogging since 2011. She is a lover of life, and in Japanese, her first name means Pure Beauty.