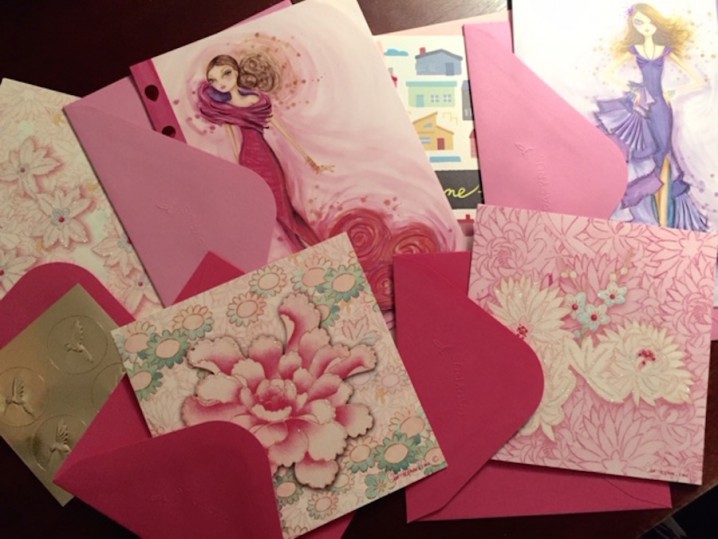 I've always absolutely ADORED letter writing and receiving. (You know, as in SNAIL mail!) There's something spellbinding about letters, and they have the power to bring pretty color into your day, with a sprinkling of fairy dust! So I was pretty sad when people including myself, stopped writing them altogether. And it just all became so… electronic. Which I will admit has its pros. But I always felt it was such a shame, something so magical just disappearing.
I remember being a little girl when checking the mailbox used to be such an enchanting, intriguing event for me. I'd eagerly wait for the letters to arrive, and I'd always open the little door and peer inside it with wonder, as if it were a chest full of treasures. And to see a pretty envelope sealed with a pretty sticker with my name handwritten on it, now that was like gold to me!
I used to also LOVE writing letters. I had quite a large stationary collection, with sparkly stickers to match! I would love to fill those pretty pages or cards with my thoughts, with words for the recipient to brighten their day. I'd share my experiences or tell a friend what I missed about them. I'd also choose to write a letter instead of another method of communicating, when there were things that were not so pleasant to be said. Somehow for me, when I wrote one of these magical letters, my thoughts were expressed in the best possible way. Then I'd fold them all up into colorful envelopes, seal them with a sticker (or a lipstick kiss!), and slide them into the nearest mailbox. The sound of the letters falling into it, and the thud of the lid closing always brought me much satisfaction. I then imagined them magically flying around the world, reaching my loved ones!
So you could imagine my joy when Alexandra Franzen proposed a 7 day letter writing challenge! I was on board of course 🙂 I was also verrry excited to use some beautiful cards I got from a website called "A Beautiful Mess". They have a subscription package for cute cards and stationary called Happy Mail, and they make me verrrrry happy! I think Joseph may think I'm slightly crazy because I watch the monthly videos over and over, where they show you what will be included in your next package! And I'm just SO EXCITED for my new package to arrive every month! Basically the way it works is, you pay a low recurring fee and every month, a cute package arrives with wonderful cards, stickers, and other goodies in it! I'm in LOVE with it!! I also have many boxes of cards from one of my favorite stores, Papyrus. Joseph thinks I'm slightly crazy here too, it seems as though I'm always finding another reason why I JUST HAVE TO BUY another box of cards!
The first day I was to write a love letter. Well that was easy, as I'm married! So I picked a pretty Happy Mail card, and wrote Joseph some nice words and left it on his desk. He found it when he came home while I was still out, and I think it made his day! He said it made him smile and it was a pleasant surprise. (This is the power of handwritten notes, I tell you!!)
The second day I was to write a fan letter. I chose Sarah McLachlan, of course! She's been one of my favorite singer/songwriters forever. Not only is she talented, but she delivers soooo very much more than just music. But maybe that something else can only be delivered through music.
The third day I was to reconnect with a friend. I decided to choose my friend Stacy. She's actually the one who introduced Joseph to me, we met at her wedding! I hadn't communicated to her in a few weeks so I thought I'd send her a note letting her know I was thinking of her.
The fourth day I was to send a letter of thanks. I chose my parents, and thanked them for all that they have done for me over the years. (And the card I chose had a cute sushi drawing on it, which I thought was perfect since they had just bought all of us some for New Years :))
The fifth day I was to write an apology letter. I decided I'd write a friend that is no longer in my life. About a year ago, we had an argument and I realized all the tears I shed over it and all the cutting words weren't helping my soul any. So I decided it was best to end it. However, it was ended via text, and in anger. I always felt bad that I never explained where I was coming from and why exactly I made the decision to leave. So I apologized for that and let it all go – in the right way – this time around. Not only will it hopefully help her, but it will definitely help me, to move on.
The sixth day I was to write a letter with my advice. I felt a little resistance step in from this prompt, as I've always felt, who am I to give anyone advice? I'm just living day to day, trying to make the best choices, and lots of times I feel lost! But you know what? You can learn from ANYBODY. You can even learn from little kids, I mean, have you ever REALLY observed a child? They know so much that we used to know, but have forgotten as adults. So I decided that I'd write a blog on it. This one, actually. And I read somewhere that a piece of writing, no matter what it's about, portrays what the writer knows, what he/she has learned in his/her life. So, hopefully what I know shines through here.
But I guess I can add some of the lessons I've learned in my life so far. I know they've helped me, and they may or may not help you, as we are all different souls, having different experiences. But the first is, be yourself and do what you think is best for you, not what other people think is best for you. Second, always tell the truth when the time is right. But in a gentle way – I can definitely use help here. Third, things seem to always fall into place if you follow your heart, even if you're scared, and maybe the fear is a good sign. And lastly, write more letters!! 😀
And the final letter was to be one for my future self. I just wrote it and sealed the envelope this morning. To be read in 3 years. I wrote of all that I will be then, and all of the dreams that have come true already, because I am making them a reality right now! And judging from my past dreams already having come true, I think my letter being opened in the future will be right on track!
So, that's it! The letter writing challenge is over, as is this blog. I hope you feel inspired to write someone. A handwritten letter or card can brighten someone's day, truly. And even more so now, since real letters are so rare today. And if you should feel that you'd want to possibly brighten my day, I'd LOVE to send you a handwritten postcard! You can email me your mailing address here  and I'd be so pleased to send one your way, it would make me smile 😀 And I will surely give it an extra sprinkling of fairy dust 😉
I have a dusty pink box with piles of letters from my past, stuffed into it. I've never had the heart to throw it away. They are a part of my treasure collection. Maybe we'll be able to bring letter-writing back. And if we do, I will surely start a new box, with new piles of letters to stuff into it. And i'm pretty sure these boxes will be among my things after I have departed from this world, in the very far future 🙂