This morning I woke up in my comfy Bed and Breakfast bed, and lit my pomegranate and pine scented soy candle. I pulled a Tarot card, The Star!! Could I have asked for a card more magical?? The card for wish fulfillment, and the PERFECT card for today, as today is the day I planned on starting to fill out my 2015 making-my-dreams-come-true workbook, by Leonie Dawson. Which I HIGHLY recommend, by the way. So if you don't have one, click on the link and order one now, pronto!! It'll make your life magical, it's true!! (And it's my affiliate link, I must add ;))
But of course Joseph and I ARE at a bed and breakfast, and breakfast is the first thing we had to do, so we followed our noses down the stairs into the pretty and inviting dining room. We were greeted by the warm innkeeper, and the most beautiful tea set, coffee cake, and halved grapefruit, with cute little grapefruit spoons to match! And then we were served some fluffy blueberry pancakes sprinkled with powdered sugar, maple syrup in little glass bottles, and some breakfast sausage links, so beautifully presented! We conversed with some entertaining and worldly guests who were also staying at the inn, as we sipped some fragrant tea from the gorgeous floral, gilded edged tea set. Then back upstairs for my planning retreat!
The first thing one must do in order to plan the new year, is to reflect on and let go of the year that has passed. So that is exactly what I did. I filled out page after beautiful page, of the "Celebrating & Releasing 2014" section of the workbook, and reminisced and absorbed everything that has happened this year. And in doing that I could TRULY see before me, all that has happened. So very many blessings and things that I can be proud of, things I can truly be grateful for. And I must add here, that I've been keeping a journal for years and years now, and in the beginning of each book, I leave a few pages blank. Here, I write down a list of everything wonderful that's occurred as they happen, or anything that is important and worth noting. Milestones, I guess. And looking back on this list always leaves me in awe of the magic that can happen, just by getting up every morning and living each day!
So, 2014 happened to be an amazing year, really and truly. Some wonderful things that happened, that make my heart sing:
I met Gala Darling a few times, and got to know her lovely self, she is truly precious and inspiring
I started exercising 5x a week, a mixture of yoga, elliptical, and strength training (and of course some hiking when the weather is nice!!)
My beautiful, adorable, precious, good-looking nephew Cody was born!!
Joseph and I were able to go to California for a week or so and have an amazing time
Hit 500,000+ views on my website earlier in the year (and it's currently at 581,994, if you care! ;))
I started to really study the Tarot and have learned a lot so far
Went to Kripalu in MA for a retreat and met Snatam Kaur
Attended Gala Darling's Radical Self Love events
Attended The Blogcademy in NYC
Went to some amazing gigs and concerts by Sara Bareilles, Sarah McLachlan, and Johnny Marnell!
Was given an advance copy of my favorite author Francesca Lia Block's new book, to review on my blog!!
Recorded a cover of "Fields of Gold" at home, and it ended up being on the Top 20 on Women of Substance Radio!
Took a course with another one of my favorite authors, SARK
Went to Cape Cod with Joseph
Got a Filofax!! (her name is Raspberry Fifi :))
Met an amazing voice teacher, and am learning to expand my chest voice range!
Met a VH1 host while out with some new friends, and my album got featured on "Diva Gals Daily"!
My brand spankin new website was launched, and I love it!
Put on an amazing holiday concert with the chorus I teach
Went to the Singersongwriters Circle at The Bitter End and met some music people!
A planning retreat at a charming Bed & Breakfast
Do I have things to celebrate and be grateful for, or what? Thank you, Universe!!
So after I laid all this down, I took a nice long hot shower to release all the energies of 2014. I salt scrubbed my entire body to wash it all away, and let it all go down the shower drain. Then I slathered some creamy grape scented body mousse all over me, and was fresh and ready to bring in the new energies of 2015! I lit some incense and waved the wand over everything – my 2015 workbook, my old 2014 journals, my current journal, my beloved Fifi (filofax), my Tarot deck, my rose quartz mala, my post its, my favorite purple pen, my yummy candle, and my fuzzy pink socks on my feet!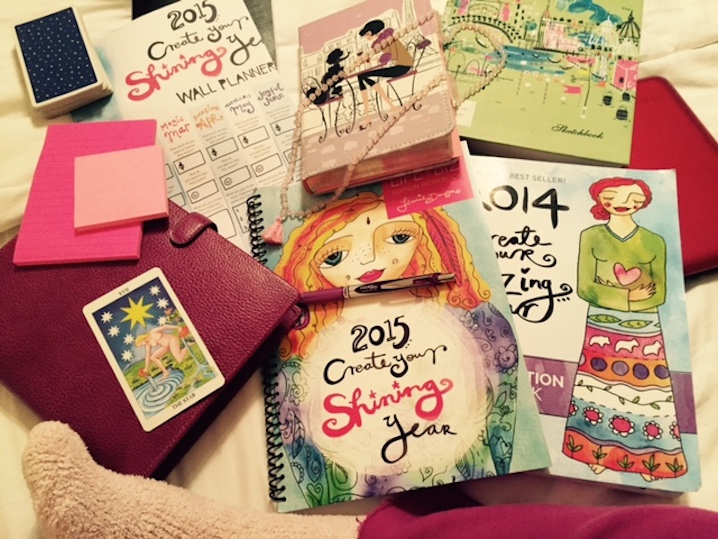 I then did my entire 2015 oracle reading, and wrote down my word of the new year, and let go of the word of last year, which was LOVE. And I can say I truly was able to embody that word, which is why I feel confident that I can let go of it now. I truly feel I have learned that we are all the same, really. I've learned to be loving towards everyone. I've also learned to thank the Universe for every wonderful thing that happens to me. I've learned to celebrate every blessing. I've learned to let go of relationships that no longer serve me. I've learned to take action more, and just DO, even if I'm scared. I've learned to be more independent. I've learned to not be so worried about loved ones, but to send them good energies instead. And i've realized what my new word for 2015 will be. And lucky me, my darling twin nephews made me a beautiful coaster, with the very word on it.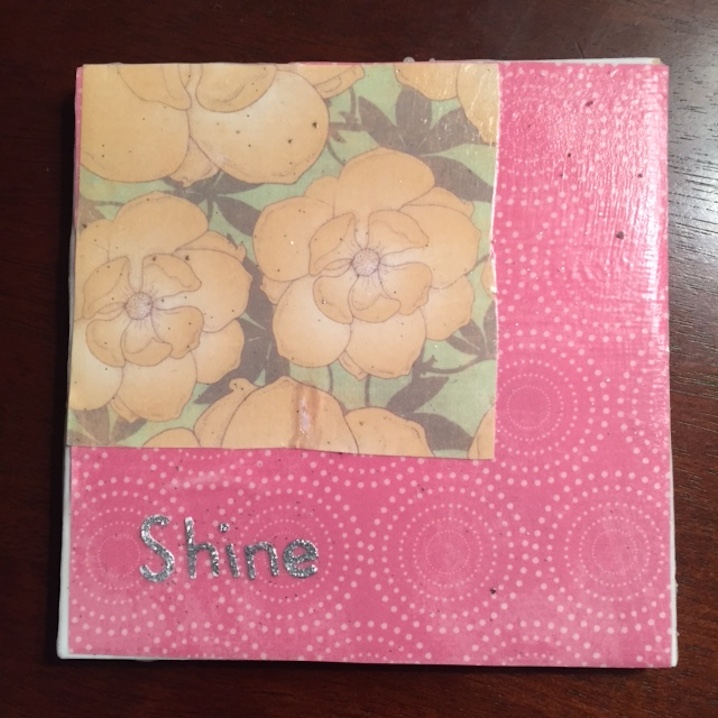 Yes, the word is "SHINE". And I plan on doing just that. I will be the very best version of myself, which will definitely include me being my musical self more. I will not let anyone stop me from being this best, most beautiful version of me. And I certainly won't let MYSELF stop me from being this best, most beautiful version of me. I will SHINE my music out to the world. I will SHINE the best of me out to the world. And nobody can stop me!
Love and more Love, and Cheers to a magical 2015 <3